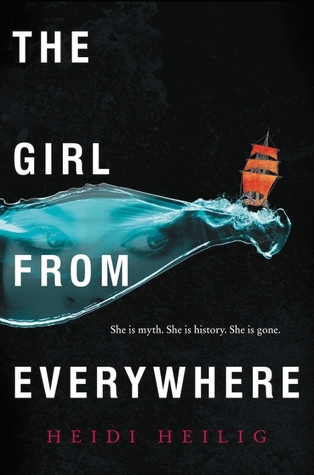 Nix has spent her entire life aboard her father's ship, sailing across the centuries, across the world, across myth and imagination.

As long as her father has a map for it, he can sail to any time, any place, real or imagined: nineteenth-century China, the land from One Thousand and One Nights, a mythic version of Africa. Along the way they have found crewmates and friends, and even a disarming thief who could come to mean much more to Nix.

But the end to it all looms closer every day.

Her father is obsessed with obtaining the one map, 1868 Honolulu, that could take him back to his lost love, Nix's mother. Even though getting it—and going there—could erase Nix's very existence.

For the first time, Nix is entering unknown waters.

She could find herself, find her family, find her own fantastical ability, her own epic love.
The girl from everwhere
is one of my favorite books so far this year. I love it so much. I love Nix, the protagonist. She was smart and though. I love when many different diversity of people take place in a book. Nix is half-chinese. Her best friend/ one of her love interest Kashmir is Persian. The other crew members is from other place around the world too and one of them is a lesbian. I've always loved time travel stories. Which I thought was fascinating with this and unique were the maps, they used to travel through time and countries. I liked how the author had mixed reality with fantasy. I love how this was a mixture of historical events and fantasy. Those who know me know I'm a big history nerd. I love all kind of old things. I love both Kashmir and the cute Hawaiian guy she meet. But Kash is my favorite and please let them end up together. He is caring and charming, and sassy as hell. My favorite kind of guy. The only one of the characters I didn't like was Nix's father. I felt he was a big jerk most of the time and didn't cared much about his daughter. I like him more in the end, but I never loved him. He took some very bad decisions, which I felt wounded Nix emotionally. He never though about what she felt about it. When it came to the story and the main plot, I loved it. My favorite moments in the book was with Kash and Nix together, and their friendship. Loved it so much. I loved how Kashmir did everything for Nix and how far he would go for her. Beginning was perhaps a little slow, but I felt the rest of the book just got better and better. The end was fantastic. The characters development was perfect. I'm looking forward to the next book. 5 stars!
To Heidi Heilig:
I've tried
not to reveal too much of what happened in the book, case anyone reading this who has not read the book yet.
Finally, I would just say: